Geothermal energy is relatively new to the Netherlands. The first deep geothermal well was drilled in 1986 in Asten. This well targeted various Tertiairy reservoirs. The well did not result in the realisation of a doublet. The only drilled aquifer that was found suitable (Breda Formation) has not been targeted for geothermal exploration since then. The second deep geothermal exploration well was only drilled in 2006 in Bleiswijk. Hot water was found in rocks of Jurassic / Cretaceous age. All subsequently drilled wells since then were also successful. The year report Natural resources and Geothermal energy in the Netherlands 2017, published by the Ministry of Economic Affairs and Climate, summarizes the numbers of drilled geothermal wells and the produced geothermal power on a yearly basis.
Figure 1 shows the locations of the current doublets. As of January 1st, 2018, 20 doublets were drilled, of which 14 were in operation. Eleven were drilled into rocks of Jurassic / Cretaceous age, five of Rotliegendes age, two of Carboniferous age and one of Triassic age. The Heerlen Mijnwater project differs from those doublets; here, hot water is being produced from drowned mine passages in rocks of Carboniferous age. In 2018, six more doublets were drilled or are currently being drilled, into rocks of Rotliegends, Jurassic / Cretaceous and Tertiairy age. An exploration well that was drilled into deeply buried Triassic rocks was found tight, and was completed in Jurassic / Cretaceous aquifer rocks.
With the exception of the Heerlen Mijnwater and Tertiairy projects, the doublets produce water between about 65 and 100 °C, from aquifers that have naturally favourable properties that allow hot water to be produced without the necessity of stimulation. Exploration of other reservoirs that may have large(r) potential (such as deeply buried Triassic or Dinantian rocks) is still limited.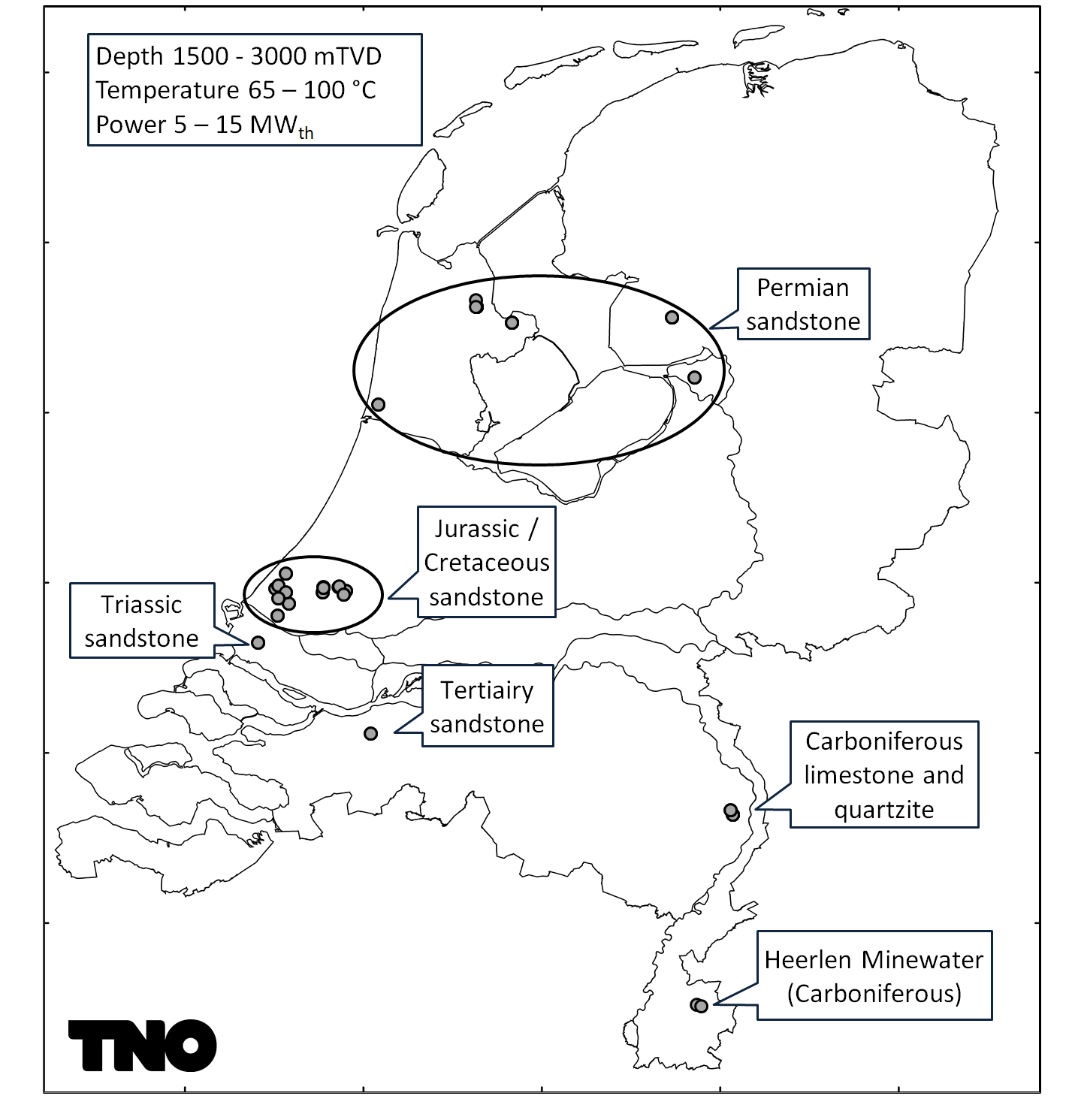 The energy of all currently producing doublets is used for heating greenhouses. One doublet also provides heat to a residential area. The only long term inactive doublet, which is currently being redeveloped, is planned to provide hot water to a city heating network in The Hague starting 2019.
Figure 2 shows that, between 2010 and 2016, the pace of development has remained stable at around two doublets per year. Since then, it has accelerated to about five doublets per year.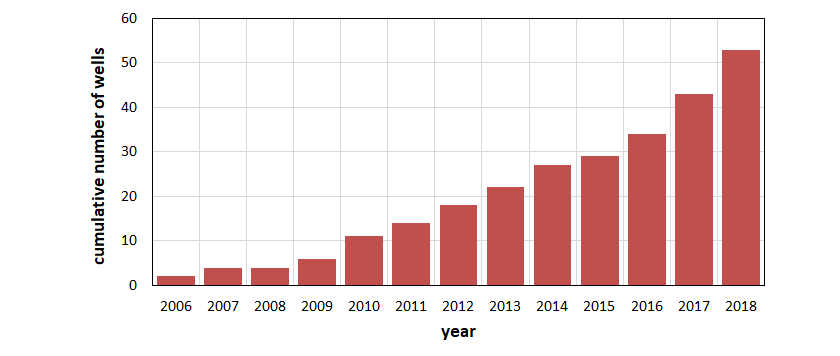 Figure 3 shows that the average power per doublet has increassed over the period 2010 - 2016., and thereby also the pace of growth of the cumulative geothermal power (figure 4). This is especially due to the increased well depth, and therefore the higher production temperature, and the larger flow rate as a result of the larger well diameter. The installed capacity at the end of 2015 was about 130 MWth. The doublets produced 3.042 PJ in 2017 (Ministry of Economic Affairs and Climate, 2017. This is about 25% of the policy intention that was defined in 2011 for 2020 (Ministry of Economic Affairs and Climate, 2011).